CFYE's Ugandan Implementing Partners got together to talk about decent work. In this learning session, they shared their knowledge and insights, unpacked some definitions of decency, and developed concrete solutions to realize decent jobs. 
CFYE is committed to decent work. That is why we strive to learn about the challenges our Implementing Partners (IPs) face and the resources and skills they need to create decent employment opportunities for youth. Bringing all six of our IPs under one roof, we delved deep into questions such as what a decent job is, how we can close the living wage gap, and how local labor laws influence achieving decency in work. After our partners had presented their business plans, progress, and challenges, they were joined by MasterCard Foundation and Global Innovation Fund in a panel talk. Moreover, the strategy consultancy NewForesight discussed how they established a living wage benchmark in Mbale, Uganda, and how it could help the IPs.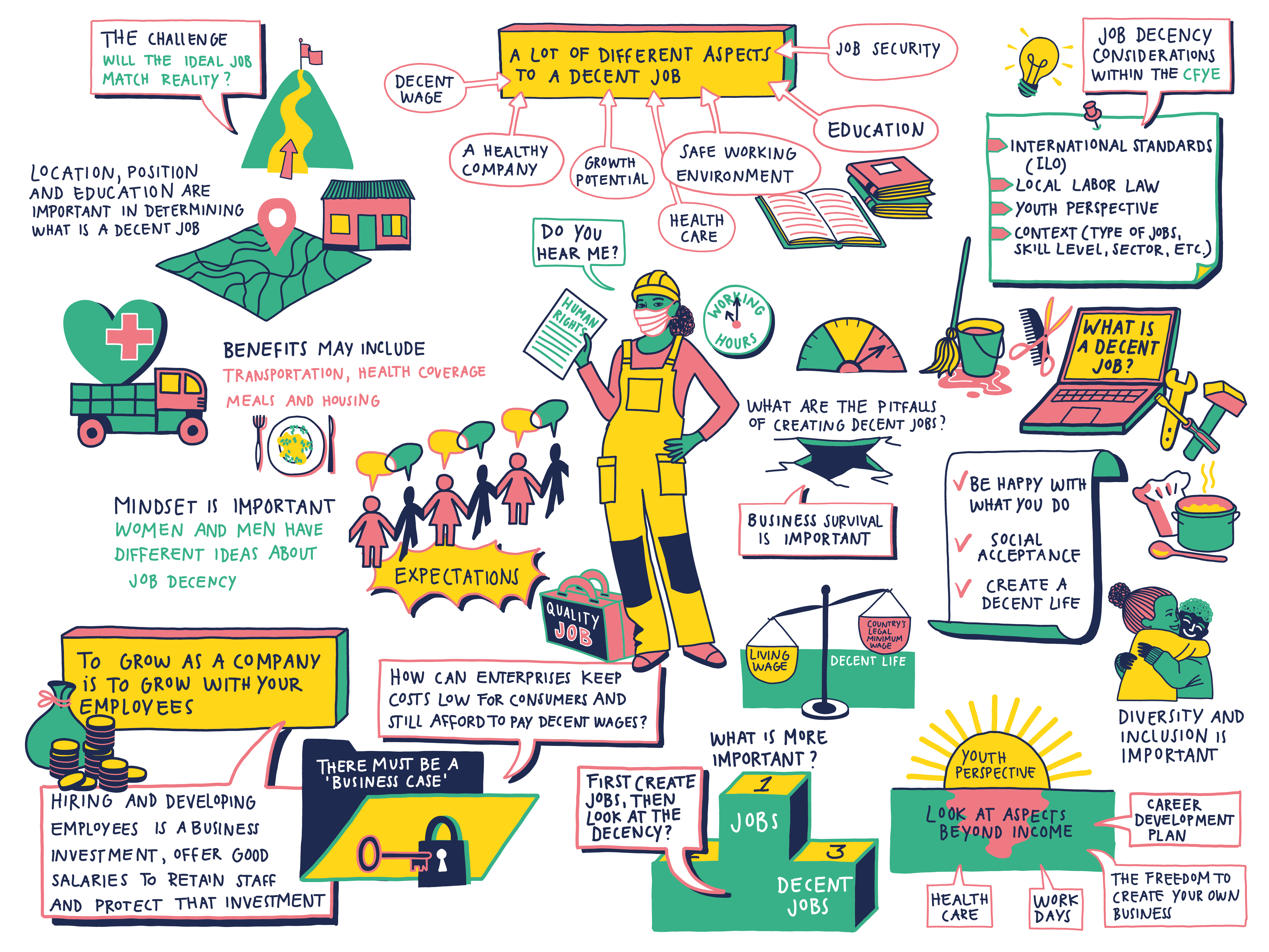 The discussions encouraged many thought-provoking ideas but pointed to one clear conclusion: there is no one-size-fits-all definition of decent work as youth have different expectations and career aspirations depending on the local context. Although what makes a job decent can vary per person, the participants agreed that the elements that constitute decency assume safety, security, a living wage, freedom to realize one's potential, and a sense of fulfillment.
As the dialogues were underpinned by youth aspirations, looking beyond income when discussing decency solidified as a key takeaway. This is because the Youth Action Research conducted by our Youth Champs exposed that for many youths, the non-monetary benefits a decent job brings can be as important as the monetary ones. From an employer's perspective, our IPs highlighted the need for creating an enabling business environment so that social impact goals and creating decent jobs are not in direct contradiction.
We finished the session by laying out concrete solutions that can be implemented to make strides in achieving decent work. Some of the actions involve being transparent, giving employees a sense of ownership, creating performance management plans, and avoiding one-size-fits-all solutions. The learning session stimulated many fresh ideas and further motivated our partners to work towards achieving decent jobs.
CFYE and its partners commit to sharing good practices and insights, collecting data, and contributing to research and knowledge building around living wage and decent work. We will continuously share more learnings and reports on the progress of realizing decent work.