Creating decent jobs for 200,000 young people requires working with ambitious partners at every step of our journey. To achieve our mission, we not only join efforts with our direct Implementing Partners (IP) but also with our Technical Assistance (TA) providers and volunteers who deliver the necessary support to our IPs. But what challenges do our partners and volunteers experience, and how does the behind-the-scene work look like for them?
With this feature, we aim to highlight the voices of the employers and the youth strongly contributing to the CFYE mission and learn more about their experiences of working with CFYE.
Rhona is a Ugandan national volunteer from VSO helping Healthy Entrepreneurs with Learning & Development.
What does your work look like at Healthy Entrepreneurs?
I am helping with developing a training curriculum for the Healthy Entrepreneurs (HE) employees, specifically for HR staff. I work closely with Suzy Horsfall, an international volunteer from VSO, who has a wealth of knowledge and experience in Learning and Development (L&D). While she focuses on the external customer and Community Heath Entrepreneurs (CHE) recruitment and training, I focus on the internal team /staff.  I currently work with the HR lead at HE to develop a competency framework. This involves a training needs analysis to see what skills and knowledge the team needs to attain the organizational objectives and mission. I have created an HR activity plan that includes job profiling to determine which roles could be merged and which roles we need to fill. Healthy Entrepreneurs works with Community Health Entrepreneurs (CHEs) to make healthcare accessible to the rural settings in Uganda. But to recruit and retain the ideal CHEs, we should first have a solid and competent internal staff.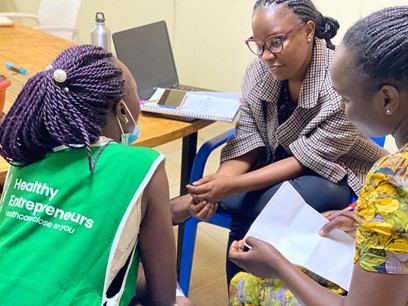 What are some of the areas you helped the team to upskill in?
Entrepreneurship is the key talent we are training the HE staff in. However, every department has different needs. We take a tailored adaptive training approach and look at the gaps in each department. For example, we give leadership training to the senior team while focusing on Customer Care and service in the Sales department. We also provide upskilling in soft skills, such as good communication, teamwork, and effective collaboration in line with the HE business values.
What skills helped you be an excellent fit for this role?
My background in HR has come in very handy, as I am skilled in human resource planning and people management. I am people-centric and find joy in helping people get to their greatest potential. I also have a big passion for talent acquisition and development. My career goal is to implement qualitative policies and practices that retain and attract top talent to meet the organization's needs. This role offers me an excellent opportunity to develop my career goals.  Lastly, I am familiar with the employment law of Uganda and currently offer labor regulation support to the HE Management team while structuring a sustainable employee protocol and HR department.
What do you like the most about volunteering at HE?
So many things, but the first thing that comes to my mind is how young, diverse, and dynamic the team is. We involve youth from the most diverse backgrounds. It doesn't matter what diploma or degree field you hold; if you have the motivation to learn and grow with HE, we offer in-house training and resources to equip you with the skills and knowledge for your career and personal development.
What attracted you to this specific volunteering experience?
When I saw that the opportunity was tied to L&D, I immediately thought it was a great match, considering my background in HR. Moreover, I am currently writing my Master's thesis on L&D, and this role helps me further grow my skills, specifically within a sector I am very passionate about. I also very much wanted to help my community thrive. So, I saw this opportunity perfectly embodying both of these aspirations.
What are your biggest learnings from this experience?
This opportunity came at a very particular time when the pandemic has amplified our vulnerabilities. We are all looking out for each other and want to give back to the community. When I see what impact our work creates and how communities benefit from it, it makes my heart full. But it also gives me priceless professional exposure. During my onboarding, I got to learn more about the work that VSO and CFYE do. I find their commitment so inspiring that it only reaffirms my desire to grow in the non-profit sector. I wouldn't have traded this experience for anything else.