Climate change impacts us all – but not equally. While the devastating consequences of rising temperatures are felt across every continent, some regions are disproportionately affected. Despite the little contributions to global emissions, many countries in Africa and the Middle East bear the brunt of the change, facing land degradation, water scarcity, and extreme weather conditions. This crisis has long signalled the immediate need to concentrate cross-stakeholder efforts and foster global collaborations to enable green transitions. But how can we ensure that green transitions in Africa and the Middle East are just transitions?
Immediately after COP27, CFYE and Hivos partnered with New Silk Roads and Elre7la to convene local climate actors in Futures Lab in Nuweiba, South Sinai, Egypt. Six CFYE implementing partners (IP), entrepreneurs in the green sector, climate activists, investors, and civil society members came together to engage in "futures thinking" and explore possible scenarios of green just transitions. New hopeful futures were called for that would put local and inclusive climate adaptations at the centre of realising climate justice.
With great diversity in the participants' countries, sectors, knowledge, and expertise, the Futures Lab set out to promote creative collaboration and knowledge sharing. The lab invited the groups to imagine multiple futures that were just, centred around local contexts and needs, and conducive to the well-being of the planet and their communities.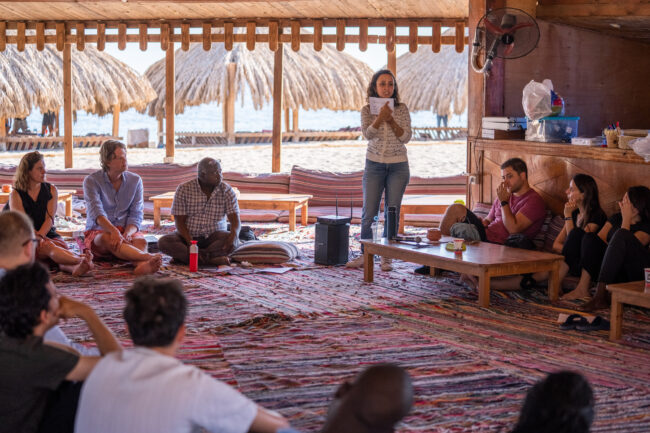 Participants at the Futures Lab in Nuweiba, Egypt. By Ahmed Ona
Why are local adaptations necessary?
Climate finance often does not reach local actors, leaving local expertise and needs in the shadow. But despite this gap, entrepreneurs in green businesses are already utilising their knowledge to develop innovative solutions. Their expertise, skillsets, and passion for keeping their lands inhabitable lay a solid foundation for a thriving local green economy.
While local entrepreneurs understand their context and are in tune with their surroundings, they are also well-positioned to be sensitive to the needs of communities and can meaningfully engage them. To see this in practice, the Futures Lab participants visited a pioneering example of a community-based green initiative: the Habiba Community. Through regenerative and organic farms and learning centres, Habiba is building a sustainable future for the South Sinai community to promote food security that has been jeopardised by drought and high soil salinity.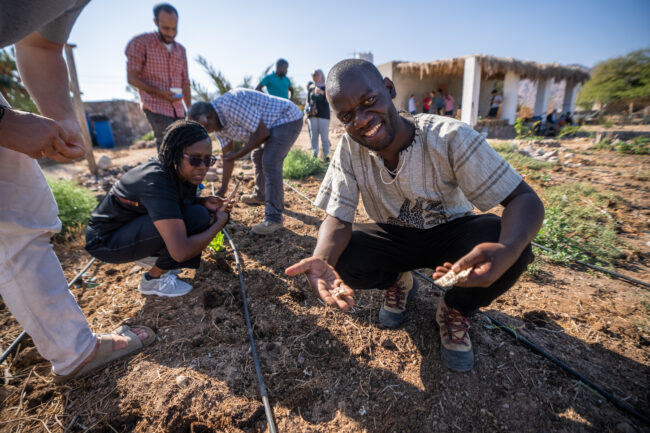 Participants visiting the Habiba organic farm. By Ahmed Ona
Having a sustainable solution needs to include the voice of the people who are directly affected. Whether that's local organisations, farmers, or producers, everyone on the local level needs to have a voice and a say in how to create these solutions. They are the ones closest to the issue and know what they want and what they need.
                -Noha El Sebaie, Program Manager at Challenge Fund for Just Transition & Program Manager at Green Entrepreneurship and Employability
How do the futures look?
While unpacking the concept of a just transition in the Futures Lab, it became evident that no one definition could encompass all the aspirations of local green actors. But rather than acting as a roadblock, the multiplicity of visions and ambitions enabled smaller groups to work together to build critical foundations for the envisioned futures.
The groups defined four priority areas: 1) inclusive decision-making on adaptation, 2) the value of local knowledge, 3) effective adaptation in food, agriculture and land use, and 4) viable, inclusive business models for climate adaptation. Each theme encouraged participants to explore multiple possible scenarios and develop alternative narratives and stories for local climate adaptations. 
No just transition without youth
The journey into the possible future scenarios revealed how interconnected the climate crisis was with other, equally urgent, crises. The participants highlighted how climate change exacerbates existing inequalities, hitting vulnerable groups the hardest. Specifically, two segments of society, women and youth, will be further marginalised if timely and adequate action is not taken.
Since youth will feel the dire consequences of climate change, they should be active participants in their communities' climate adaptation and mitigation solutions. Many local green businesses have enormous but often untapped potential for creating decent employment for young people. When given access to the necessary resources, green companies can simultaneously respond to two local crises: climate and youth unemployment. This is precisely what CFYE IPs illustrated to the participants of the Futures Lab: local business solutions not only help to green the economies but can also provide livelihoods for thousands of youth.
CFYE's commitment to green initiatives
Climate justice cannot happen without the leadership of local communities of the hardest-impacted regions. Therefore, putting local solutions at the forefront of climate strategy becomes indispensable to achieving a green, equitable, and economically sustainable future. CFYE is dedicated to supporting green initiatives and promoting green jobs for youth. By listening to our partners, their needs, and the youth's concerns and ambitions, we strive to further deepen our understanding of green jobs and businesses. Our participation in the Futures Lab will inform our learning agenda on green jobs and encourage new peer learning and collaboration opportunities with Hivos.
Explore our portfolio in green jobs here.
The participants' future visions on all four priority areas will be further developed and published in a creative way.