Balloon Ventures (BV) unlocks the potential of small businesses in Uganda and Kenya by providing them with financial and business support. By embedding good management practices into small and medium enterprises in the brick-and-mortar sectors, BV aims to help entrepreneurs create good jobs for the youth. 
What do Balloon Ventures (BV) do? And what's the inspiration behind its business model?
At BV, we are trying to build the world's first financial institution dedicated explicitly to good jobs. Our story goes back to 2012 when we started working with micro businesses in Kenya and Uganda. We discovered that although street trade was widespread in both countries, most of these entrepreneurs often employed only one or two people and struggled to scale further. We saw that these companies had tremendous potential to grow, but they got stuck because of the lack of resources and knowledge. So, BV's business model was initiated on our aspiration to get those businesses "unstuck". And we currently do this by delivering financial and business support to help small entrepreneurs formalize and grow, enabling them to employ more young people.
What do you think are the most significant employment challenges in Uganda today?
In many emerging economies, including Uganda, the business ecosystem is very polarized: on the one end, there are a few giant companies, and on the other, millions of micro-enterprises in the informal economy. Therefore, the middle – small and medium enterprises (SMEs) – is missing. This affects not only the number of people employed but also the quality of the jobs. In Uganda, around 80% of people work in the informal sector, where the quality and conditions of their work are very low. Some people, for example, work without contracts, have an unsafe working environment, or do not get paid for their labor on time. BV strives to address this by eliminating the barriers the missing middle faces in formalizing. We believe that financial institutions can greatly influence not only the business growth of the companies but also the quality of employment they provide.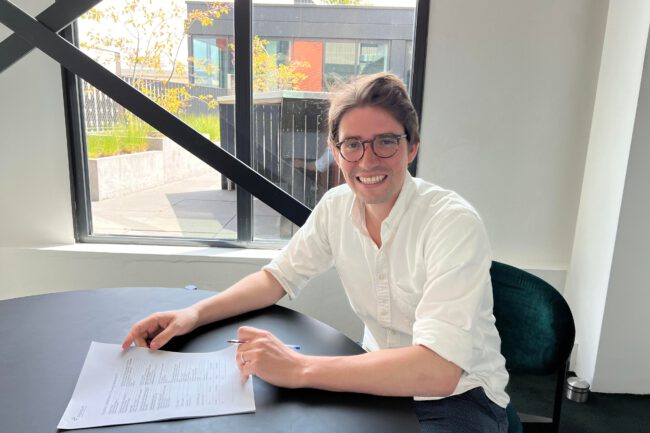 Joshua signing the contract for the second partnership between BV and CFYE
How exactly do you define good jobs and ensure the created jobs are good/decent?
We are committed to helping youth find jobs that afford them a life of dignity. Unless you have a safe, secure, and fairly paid job, you cannot invest in your family or your future. Therefore, providing people with good jobs is the most critical development challenge. For that reason, every partner that signs a contract with BV agrees to create conditions that will ensure the jobs they create are decent. First, the business agrees to move all its employees onto contracts. This way, we can guarantee that the employees have security and will enjoy all rights to which they are entitled. We also ask businesses to push their employees' salaries to a living wage standard based on the living wage benchmark we developed in partnership with a strategy consulting firm, NewForesight. Good jobs are the core of our mission, and we are convinced that, as a financial institution, we can have a significant impact on promoting high-quality jobs.
BV's business model is unique as it combines financial investment with business support. What are some of the skills/support Ugandan entrepreneurs need the most?
First of all, it can be tough for small businesses to get loans to expand their businesses. This is because the amount they need is typically too big for micro-financing institutions, too small for venture capitals and accelerators, and too risky for the banks. And while access to finance is one of the biggest roadblocks, the support these entrepreneurs need transcends monetary investment. Many companies keep running informally even when they start growing and find it challenging to professionalize their management processes. For instance, they might not keep track of the records properly or have the necessary structures and policies in place. And without these management foundations, the investment will not be used as efficiently. At BV, we realize that funding alone cannot lead to sustainable business growth. Therefore, we have created a commercially viable product that attends to both the financial and management needs of our partners.
Being an entrepreneur can be risky, especially in the informal economy. How does Balloon Ventures help SMEs reach long-term financial sustainability?
One of the biggest reasons a lot of starting businesses fail is not being able to mitigate potential risks. Many small entrepreneurs are usually not prepared for business accidents. For example, they typically don't keep a cash buffer and do not have the necessary systems to prevent risks. So when a sudden shock occurs, the business cannot recover and either closes down or stops scaling. The absence of professional business practices can not only be detrimental to the enterprise but also makes investors reluctant to lend money. What BV does is help businesses de-risk their practices. By encouraging them to professionalize their business behaviors, we can set them up for long-term success.
Creating jobs that match youth aspirations is essential in realizing successful employment programs. Do you directly engage with youth? What are their aspirations?
Understanding what jobs youth aspire to have is essential if we want to create youth-centered employment initiatives. We have recently partnered with a measurement company, 60 Decibels, to survey around 400 employees in BV-supported businesses and learn their perspectives and desires in employment. We observed three general aspirations that cut across gender, sector, and age: a desire to have a living income, job security, and learning new (soft) skills/having training opportunities. The first two are already strongly ingrained in our model. We are now exploring ways of utilizing technology to offer ongoing training to all the employees of the businesses we invest in.
What have been the biggest challenges in implementing the business model of BV so far?
Global economic trends have caused the most challenges. The COVID pandemic hit small businesses especially hard. Uganda kept the schools and the hospitality sector closed for a very long time. And as an institution that invests in many companies in these sectors, we had to slow down our collaboration and focus on the industries that could continue operating. On top of that, the current economic turbulence and its impact on the global supply chain have posed significant difficulties for many entrepreneurs.
Do you think supporting entrepreneurs will become the leading approach to tackling youth unemployment?
There's a big gap in how much support and attention entrepreneurs receive. We have noticed that all the excitement and focus around entrepreneurs in the tech sector often leave the ones in the brick-and-mortar industry ignored. Supporting the tech sector is, of course, essential for the country's development. Still, financing brick-and-mortar businesses is indispensable if we want to tackle youth unemployment and create a large number of jobs. There are tens of thousands of companies in this sector, and the impact these local enterprises can achieve when it comes to job creation is unparalleled.
Balloon Ventures is one of CFYE's first funded projects in Uganda. We are delighted to deepen our collaboration with BV and have them as our partner again in response to our Thematic Call for Solutions in Scalable Employment Models. This partnership will allow BV to scale up to the east of Uganda and Kenya and support more than 300 businesses.